Le Désir
2017
Vintage
Vintage
The growing season began without incident – months of winter rains replenished groundwater and invigorated the vines, followed by mild spring and summer conditions. After a brief heat wave in early September, the weather cooled again allowing for ideal harvest conditions.
Picking began on September 2 and finished on October 2, one week before the disastrous Tubbs fire swept across Northern Sonoma County on October 8. Although this fire was one of the worst in California's history, both the Vérité estate and wines thankfully emerged unscathed. As such, our 2017 vintage lots were either resting in barrel or completing fermentation, avoiding any concerns of smoke taint.
Notes
Notes
2017 vintage Le Désir has a deep-garnet purple color. Complex aromas of plums, cherries, blueberries and dried flowers are complemented by spice notes of cardamom and star anise. At the same time, powerful and yet beautifully elegant, firm fine-grained tannins and layers of fresh blue and red berry fruits provide a finish to the wine that has both persistence and depth. Tasting Date: May 2020
Composition
Composition
80% Cabernet Franc
17% Merlot
3% Malbec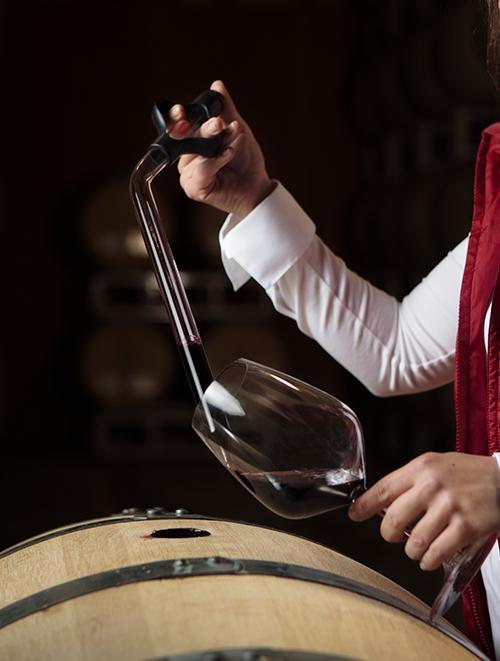 Robert Parker Wine Advocate
Blended of 80% Cabernet Franc, 17% Merlot and 3% Malbec, the 2017 Le Désir has a medium to deep garnet-purple color. It comes galloping out of the glass with all the grace and precision of a thoroughbred, sporting notions of kirsch, potpourri, warm plums and wild blueberries plus hints of chocolate box, cardamom and star anise. The medium-bodied palate (just 13.9% alcohol) is at once powerful and wonderfully elegant, with firm, very fine-grained, exquisitely ripe tannins and bold freshness supporting the red and blue fruit layers, finishing with incredible length and depth. Wow!
Lastly, the 2017 Le Désir is 80% Cabernet Franc, with the balance mostly Merlot mixed with a splash of Malbec. It has a wonderful Cabernet Franc floral character as well as awesome black raspberry, cedarwood, forest floor, violets, rose petals, new leather, and who knows what else. Incredibly complex, it takes lots of air to show at its best and is medium to full-bodied, has a bright spine of acidity, fabulous tannins, and a great, great finish. The elegance of this wine paired with its richness and depth is something to behold. It's another damn near perfect wine from this estate, and to see this quality from a challenging vintage like 2017 boggles the mind. Hats off to the father-daughter team of Pierre and Hélène Seillan.
A very beautiful, succulent red, showing lavender, sage, conifer and rosemary with black and blue fruit. Full-bodied with firm, lightly chewy tannins and a sturdy, very elegant finish. 80% cabernet franc, 17% merlot and 3% malbec. Drink in 2022 and onwards.
The 2017 Le Désir is off the charts fabulous and also one of the most compelling wines I have tasted from Vérité. Mocha, chocolate, licorice, leather, menthol, pine and spice soar out of the glass. The 2017 is vertical, heady and extravagantly rich yet not at all overdone, a hugely appealing combination in my book.