La Joie
2015
Vintage
Vintage
The winter of 2014-2015 was another mild and dry one, which included only two weekend rainstorms. Budbreak came in mid-March and the vines began to bloom early – at the end of April. A cool April and May with some rainy spells meant that bloom did not finish until June. A warm and dry June led to a July veraison kickoff. Vigneron Pierre Seillan recalls that of his 49 vintages, 2015 was the first to begin picking in August – August 31st to be precise. Harvest lasted 12 days and finished on September 12th. Although yields were low, the quality of the grapes in this vintage was outstanding.
Notes
Notes
An enveloping, structured wine, La Joie shows aromas of mint, sage and lavender in an earth-driven bouquet. Blackcurrants, ripe cherries and damson plum fulfill the promise of New World wines, while a brooding finish and fine-grained tannins pay homage to the elegance of the Old World.
The Vérité signature - the message of the soil -- is here captured in undertones of granite, iron and limestone. La Joie is a blend of Cabernet Sauvignon, Cabernet Franc and Merlot, developed individually by micro-cru in our Sonoma County vineyards.  The wine will age gracefully and reach peak maturity in 30 years. - August 2017
Composition
Composition
75% Cabernet Sauvignon
14% Merlot
7% Cabernet Franc
4% Petit Verdot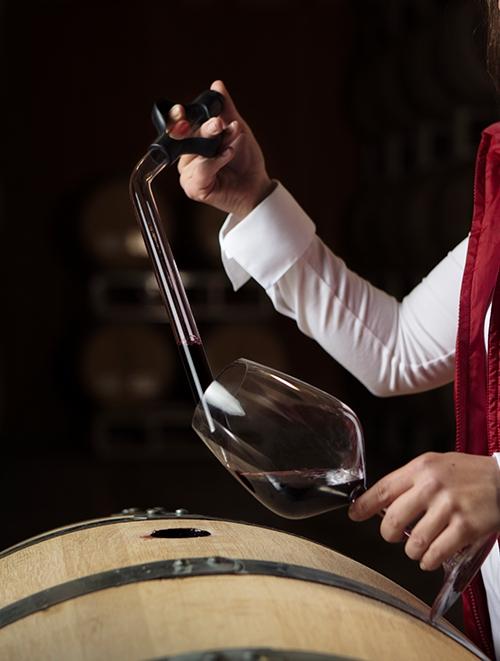 Robert Parker Wine Advocate
A blend of 75% Cabernet Sauvignon, 14% Merlot, 6% Cabernet Franc and 5% Petit Verdot, the 2015 La Joie features a very deep purple-black color and almost electric nose of crushed blackcurrants, ripe black cherries and mulberries with sparks of raspberry pie, wild blueberries, unsmoked cigars, charcuterie and crushed stones. Medium to full-bodied and charged with the most amazing energy, the youthful, vibrant black-fruited palate is framed by very firm, very finely grained tannins and wonderful freshness, finishing with lingering crushed stones and earth layers.
This is a beautiful cabernet sauvignon-based red with blackcurrants, blueberries and a light mint character. Full-bodied, firm and tight with a compressed fruit structure and polished tannins. Extremely long and focused. A beautiful wine. Mostly cabernet sauvignon. Drink in 2021.