La Joie
2016
Vintage
Vintage
The 2016 growing season proved, once again, the importance of pruning. By adapting our pruning techniques to each micro-cru, after several years of drought, we worked in concert with Mother Nature to produce grapes that would result in elegant, age-worthy wines in the signature style of La Muse.
While we experienced some heat spikes in July, the temperatures during the summer growing season were moderate with some cooler days in late August. This provided the ideal conditions for slower ripening, resulting in less sugar accumulation and producing good acidity in the grapes.
Notes
Notes
Bold aromas of redcurrants, crunchy red plums, and fresh pomegranate combine with bright mint, fresh sage, and dried cloves. On the palate, dried blackcurrants and warm raspberry compote flavors show this wine's Sonoma provenance. Savory notes are abundant and bright, with undertones of fresh pine needles, rhubarb, fresh bay leaf, and an earthy element of wet gravel. The muscular structure is marked by supple, refined tannins, strong acidity, and an elegant finish. Tasting date: May 2019
Composition
Composition
84% Cabernet Sauvignon
11% Merlot
5% Petit Verdot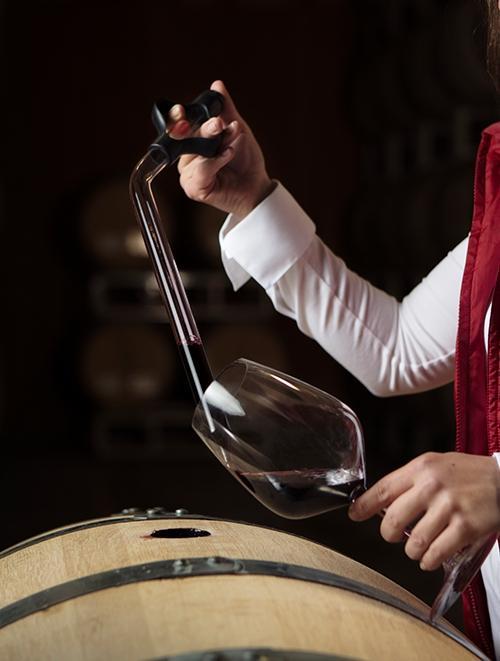 Robert Parker Wine Advocate
The 2016 La Joie is a blend of 84% Cabernet Sauvignon, 11% Merlot and 5% Petit Verdot. Very deep purple-black in color, it gives up the most gorgeous scents of lilacs, baking spices, incense and star anise with a core of warm cassis, Black Forest cake, redcurrant jelly and unsmoked cigars. Full-bodied and built like a brick house, it has a firm frame of very ripe, grainy tannins and bold, multilayered black fruit, finishing very long and very spicy.
Wonderful purity of cabernet on the nose with blackcurrants and fresh lavender. Full body, with ultra-fine tannins and great beauty in the texture and flavors. It changes all the time. Extremely complex. 84 per cent cabernet sauvignon, 11 per cent merlot and five per cent petit verdot. So approachable, but needs at least three to four years to come together completely.