La Muse
2015
Vintage
Vintage
The winter of 2014-2015 was another mild and dry one, which included only two weekend rainstorms. Budbreak came in mid-March and the vines began to bloom early – at the end of April. A cool April and May with some rainy spells meant that bloom did not finish until June. A warm and dry June led to a July veraison kickoff. Vigneron Pierre Seillan recalls that of his 49 vintages, 2015 was the first to begin picking in August – August 31st to be precise. Harvest lasted 12 days and finished on September 12th. Although yields were low, the quality of the grapes in this vintage was outstanding.
Notes
Notes
The 2015 La Muse opens with a classic ruby-red core and brilliant pink-purple outer rim. A youthful, clean bouquet recalls wildflower bloom in Northern California, aromas of purple flowers rising from the rocks. Crème de Cassis, blueberry pie and black raspberries mingle with red apple in a fresh yet restrained ripeness. Like the rock bed of its loamy Sonoma County vineyard, La Muse bends and turns with seductive aromas of baking spices, juniper berries and dark chocolate. Velvety tannins with a lingering finish complete the wine with signature balance. La Muse's signature shows hints of clay and alluvial soils, with structure and suppleness that will age beautifully for decades to come. - August 2017.
Composition
Composition
90% Merlot
7% Cabernet Franc
3% Malbec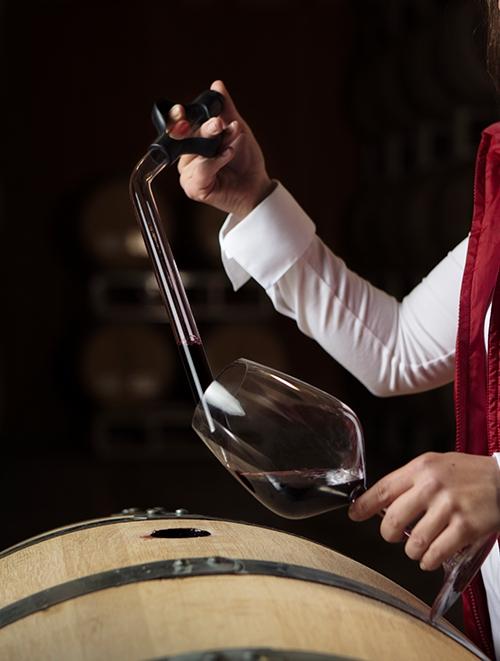 Robert Parker Wine Advocate
Composed of 90% Merlot, 7% Cabernet Franc and 3% Malbec, the 2015 La Muse sports a very deep garnet-purple color, leaping from the glass with exuberant crème de cassis, blueberry pie and licorice notes plus suggestions of Indian spices, dark chocolate, menthol, sautéed herbs and potpourri. Full-bodied, rich and seductive in the mouth, it delivers tons of black and blue fruit preserves flavors, accented by exotic spices, framed with velvety tannins and finishing on a persistent earthy/mineral note. 
This is dense yet agile young red with aromas and flavors of blackberries, black olives and black truffles. Full-bodied, layered and rich. Pretty ripe and melted tannins. Top merlot. Drink or hold.