La Muse
2009
Vintage
Vintage
The 2009 growing season was long and dry – not quite as warm and constant as the 2007 but the right conditions were present: cool nights from the influence of the Pacific Ocean, long sunny days and low humidity. These three elements are necessary to make a grand cru with balanced acidity, fruit, body and alcohol. We started harvest on September 12th with Malbec and finished on October 2nd with the last block of Cabernet Sauvignon – just before heavy rains came on October 13th. Our new optical sorter ensured that only whole ripe berries went into the tanks for the cold soak and that stems, leaves and berries that were too big or too small were separated out. Harvest took place September 12th through October 2nd. – Pierre Seillan, Vigneron
Notes
Notes
Discreet nose on this 2009 La Muse: classic for a grand Merlot but already showing notes of black cherry, currants and plum compote. Deep, rich, intense color. On the palate, an overwhelming entry with its power and strength, followed by a very long finish of beautiful, strong tannins. The complexity is incredible. The wine displays notes of licorice, white pepper and black cherry. 
Composition
Composition
85% Merlot
9% Cabernet Franc
5% Malbec
1% Cabernet Sauvignon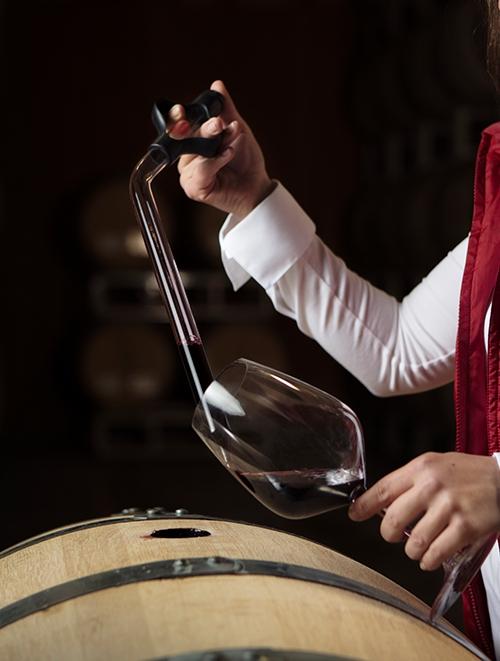 Robert Parker Wine Advocate
The 2009 La Muse is a blockbuster offering complex, intense notes of Asian plum sauce, figs, blackcurrants, white chocolate and cedar. The wine reveals an extra level of texture and richness along with full body, an unctuous texture, and a super ripeness and richness that does not go over the top. The tannins are noticeable, but well-integrated as are the new oak and acidity. This big, backstrapping, Merlot based wine is meant for long-term cellaring. Give it 4-5 more years in the bottle and enjoy it over the following 30 years.