La Joie
2001
Vintage
Vintage
The 2001 season began with a dry winter. The lack of spring rain in March and April caused an early budbreak in March and was followed by a very cold and somewhat frosty April. But then the beautiful weather in May and June made for a perfect bloom with small berries. Throughout the summer months and into September we had mild and consistent weather, which provided a very rich, even ripening of the grapes with beautiful fruit and velvety soft tannins. Harvest took place August 30th through September 14th.
– Pierre Seillan, Vigneron
Notes
Notes
A blend comprised primarily of Cabernet Sauvignon, La Joie expresses the richness and depth of a Pauillac-style wine. This wine begins with a blackberry color and a slightly spicy nose that possesses a note of smoke. Although La Joie's velvety texture is soft, it is powerful Cabernet Sauvignon fruit that defines this wine. Intense black fruit flavor is complemented by hints of espresso and grilled herbs. Merlot adds a vibrant red berry character that enhances the full-bodied profile of this wine. Soft hints of vanilla are present in the impressive finish.
Composition
Composition
71% Cabernet Sauvignon
19% Merlot
10% Cabernet Franc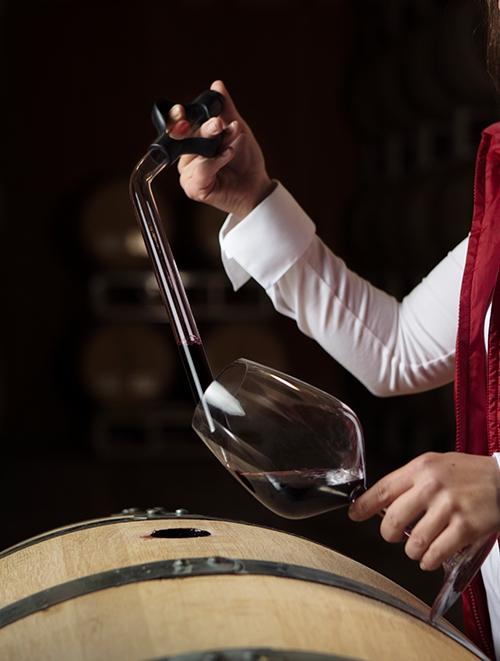 Robert Parker Wine Advocate
The 2001 La Joie remains a backward, youthful wine revealing an inky/ purple color as well as notes of graphite, licorice, crème de cassis, truffles and new saddle leather. It has fabulous fruit on the attack and mid-palate, a massive, concentrated, tannic mouthfeel and a long finish. Even younger than La Muse, it needs another decade of cellaring and should age for 40-50 years thereafter. Pierre Seillan told me that 44% of the grapes came from Alexander Valley, 35% from Knight's Valley and the rest from Chalk Hill.