La Muse
2017
Vintage
Vintage
The growing season began without incident – months of winter rains replenished groundwater and invigorated the vines, followed by mild spring and summer conditions. After a brief heat wave in early September, the weather cooled again allowing for ideal harvest conditions.
Picking began on September 2 and finished on October 2, one week before the disastrous Tubbs fire swept across Northern Sonoma County on October 8. Although this fire was one of the worst in California's history, both the Vérité estate and wines thankfully emerged unscathed. As such, our 2017 vintage lots were either resting in barrel or completing fermentation, avoiding any concerns of smoke taint.
Notes
Notes
The 2017 vintage La Muse is deep purple in color with garnet hues. It displays concentrated aromas of boysenberries, black raspberries, dark chocolate, coffee, cinnamon, and forest floor. These flavors of black fruit carry through to the palate, accompanied by subtle notes of baking spices. The tannins are ripe yet elegant and the finish is lingering and fresh. Tasting Date: May 2020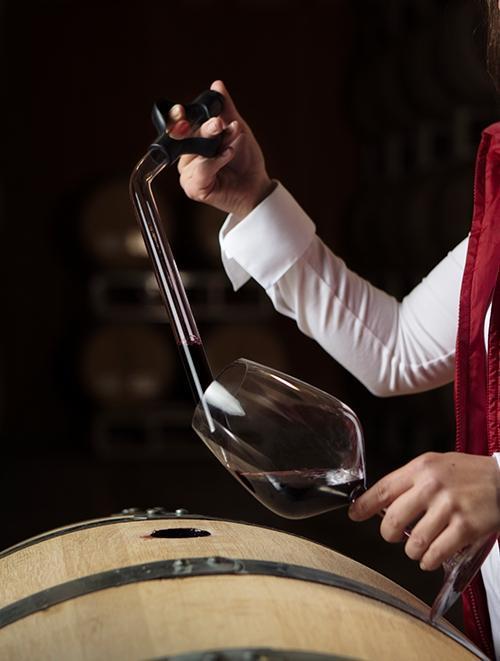 Robert Parker Wine Advocate
Composed of 100% Merlot for the first time this year, the medium to deep garnet-purple colored 2017 La Muse rolls sensuously out of the glass with scents of black raspberries, Black Forest cake, boysenberries and cinnamon toast, followed by nuances of a garrigue, forest floor, beef drippings and clove oil. Medium to full-bodied, the richly fruited palate slowly builds in the mouth to a crescendo of black fruit preserves and exotic spice layers, framed by exceptionally ripe, round tannins and seamless freshness, finishing long and fragrant. Stylistically, it stands apart from previous vintages, possessing the same magical intensity, but with less weight and more pop.
Not far behind, the Merlot-dominated 2017 La Muse offers a big, rich nose of chocolate-covered black cherries, espresso, damp earth, and leafy herbs that gains more bass notes and richness with time in the glass. It tastes like a great Pomerol from La Conseillante. Full-bodied, it has an incredible sense of elegance and purity, plenty of mid-palate stuffing, and a great, great finish. Made from 100% Merlot (this is the first time this cuvée has been all Merlot), it's another incredible wine from this estate that has the flesh and texture to shine today yet the freshness, purity, and balance to evolve for 30 years or more.
Soft, fine-grained tannins with spice, berries and iron. Leaves and mushrooms, too. Such purity. Medium to full body, lovely fruit flavors and a long, delicious finish. It's fine, elegant and refined. Super finish. Beautiful structure. Energetic. 100 percent merlot for the first time. Drinkable now, but better in 2022.
The 2017 La Muse is 100% Merlot for the first time. In this vintage, La Muse stands out for its freshness, energy and red-toned fruit. It will be interesting to see if the 2017 represents a longer-term shift. To be sure, the 2017 is aromatically deep, beautifully persistent and just impeccable in its balance.